N1SU W0JSB KA0MNX

Jason Buchanan
Seattle USA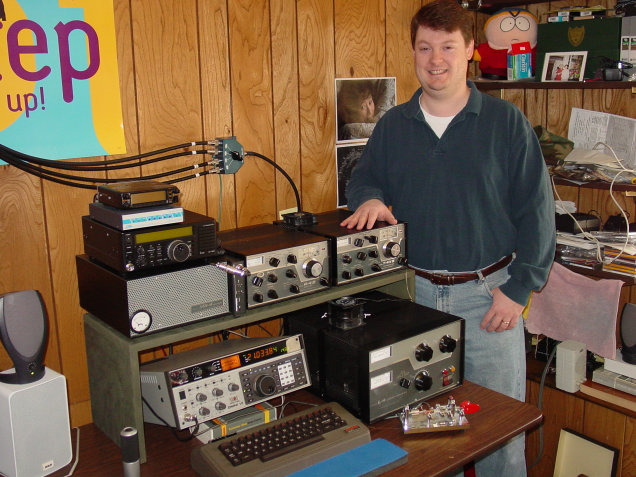 27-Nov-04 Photo of N1SU operating position

Breaking News!
N1SU-2 (VHF 144.390 1200 baud) and N1SU-4 (APRS UHF 440.800 9600 baud) APRS nodes are online - providing APRS Messaging via TX internet gateway on VHF and APRS UHF

FreeDV - HF Digital Voice for Radio Amateurs - an innovative new digital voice mode with a very active developer community - try it today!


New mailing list, DigitalVoice is now up and running - the main topic focus is for discussion of digital voice on Amateur Radio - join today!

FDMDV - FDMDV is a revolutionary digital voice mode - SNR ratios as low as 3dB are fully adequate for easy communication. QRP packers need only a few watts for easy QSOs!
Steve Ford WB8IMY has a great WinDRM article about WinDRM in the April 2007 QST issue, page 38 - read it today!
Weekend AOR Digital Voice Net will is QRV every Saturday / Sunday - Summer 2:00PM EDT, 1800 UTC, Winter 2:00PM EST, 1900 UTC - 14.236 QRG USB. WinDRM / FDMDV Digital Voice Net follows at 3:00PM EDT, 1900 UTC , Winter 3:00PM EST 2000 UTC - 14.236 QRG USB.
Inside the shack
Rigs (all Boatanchors): Drake R-4 / T-4 Reciter, Drake R-4B / T-4XB, Drake 2-C / 2-NT
Modern / Solid state rigs: Ten-Tec Omni VI / Option 1, Ten-Tec Centurion, ICOM IC-707, ICOM IC-T90A, RIGblaster M8 and Motorola GTX for 900MHz
Keys and Bugs: Vibroplex Original, Deluxe Chrome plated bug and Heathkit Ultra Pro CW Keyboard Keyer - Model HD-8999
Antennas: 160m fullwave Skywire Loop antenna - inverted vee dipoles - 40 and 20 meters - Radioware RF-9914F Bury-Flex Coax, W2DU 1:1 HF Wire Baluns and Flex-Weave Antenna Wire held by 3/32" Dacron Rope
Modes: CW, Digital, Phone - Clover on HAL P38 14065.5
Headphones: AKG K 240 DF - very light and comfortable headphones, excellent audio reproduction
QSL Info - I will send a QSL card if requested

I love Drake radios - some call them Boatanchors, to me they are real radios.

Straight Key Night SKN 2006 begins at 7:00 p.m. EST December 31 and runs for 24 hours through 7:00 p.m. EST January 1 (0000-2400 UTC January 1, 2006). I'll be there running a Drake 2 Line and 4 Line!
CW - Morse Code A1A
To Learn Morse Code is easy. (Yes, it is!) Read N0HFF's "The Art & Skill of Radio Telegraphy" - The most important book written about learning CW. Also in .PDF format

FISTS International Morse Preservation Society

WB9LPU's Key Corner and info about his PicoBug
Telegrapher's Mill aka the typewriter
NAQCC - North American QRP CW Club
CW Mailing List at QTH.net

G0TEQ Morse Code Users mailing list

Vintage Bug Association Net - 9:30pm Eastern 3570 kHz, 10:00pm Eastern 7070 kHz - put your bug on the air!

Side Swiper Net (SSN) - 14055 and 21055 Sunday at 1700 UTC (1200 Noon Eastern Time, 0900 Pacific Time). Usually on 14055 kHz

Digital Voice and Data - AOR, HamDReaM, WinDRM
Thoughts and Opinions
Product Information and Reviews
Modes and operation
Websites and News
Group affiliations:

32°
Joplin Fellowship Lodge #345
Valley of Joplin Scottish Rite
Abou Ben Adhem Shrine


ARRL Member


CW Fists #10320

Straight Key Century Club
SKCC #568


Tucson Amateur Packet Radio



Flying Pigs QRP Club
pig #770



CW Operators Club #631


Great Highland Bagpipe player


Gibson Thunderbird IV Bass


NAQCC #1582
---
Updated:
(C) Jason Buchanan - jsb@digistar.com